In Memoriam
Pope Emeritus Benedict XVI
April 16, 1927 - December 31, 2022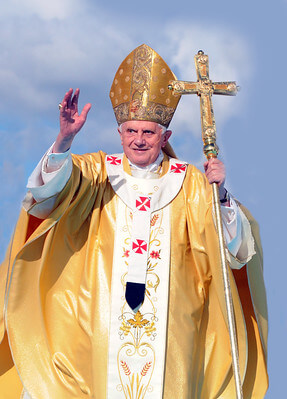 The Saint Charles Borromeo Seminary community mourns the recent loss of Pope Emeritus Benedict XVI. Born in Marktl, Bavaria in 1927, Joseph Ratzinger grew up to be one of the most important Church theologians of the 20th century. He was ordained a priest on June 29, 1951, and in 1977 was named Archbishop of Munich. In 1981, Pope St. John Paul II appointed him as prefect of the Congregation for the Doctrine of the Faith, a position that he held until he was elected Pope on April 19, 2005. St. Charles Seminary was honored to host then-Cardinal Ratzinger on January 17, 1990, when he offered a keynote address at the Symposium on Moral Theology and the Catholic Priesthood titled "Some Perspectives on Priestly Formation Today." Please join us in thanking God for the gift of Pope Benedict XVI and his legacy of faithful pastoral leadership. 
Prayer for Pope Benedict XVI
Almighty ever-living God, who
made Pope Benedict XVI a wise
teacher of your people, a gentle
shepherd of your flock, and a
faithful pastor of your Church,
grant in your kindness that your
humble servant, who in this life
believed in you and loved you, may
now receive your mercy and rejoice
in your presence for ever in the
glory of the Saints.
Through Christ our Lord.
Amen.
Copyright © 2022, United States Conference of Catholic Bishops,
Washington, DC. All rights reserved. Photo: Catholic News Service