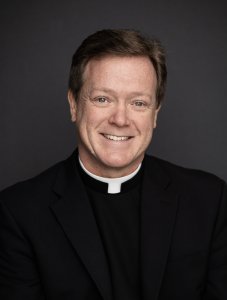 Greetings and thank you for your interest in Saint Charles Borromeo Seminary! It is a pleasure to welcome you to our website, where we invite you to learn more about the abundant ways in which the Lord has blessed this historic institution. Come and learn about its past, its present, and its future! Our mission is to form priests to be shepherds after the Heart of Jesus Christ, and to prepare permanent deacons, religious and laity for various forms of ministry and service within His Church.
I invite you to explore the many dimensions of life here at the seminary, where we have been preparing leaders in the Church since 1832. As such, Saint Charles is the first Catholic institution of higher learning in the Archdiocese of Philadelphia. Today, we are proud to be educating and forming future priests for multiple dioceses and religious congregations in addition to those for the Archdiocese of Philadelphia. Over these past 191 years, we have been blessed to have hosted many notable figures in our hallowed halls, including Pope Francis, Pope Saint John Paul II, Saint Teresa of Calcutta, and Cardinal Ratzinger. Now in our third century of continuous operation, we humbly and gratefully affirm the motto of our seminary: Exiit Qui Seminat – "The Sower Went Out to Sow."
On these pages you'll find information about our schools of education and formation:
Each program is staffed by members of our renowned faculty and maintains full accreditation by the Middle States Commission on Higher Education and the Association of Theological Schools.  We are blessed to support these programs through the numerous specialized collections in our Ryan Memorial Library, which offers a wealth of wisdom open to students and visitors alike.
It is a joy and a privilege to be part of this beloved seminary. Here at St. Charles, our community of priests, faculty, staff and students all share a very special common bond, rooted in our common discipleship and love of the Lord. The reason that this place exists is precisely to proclaim Jesus Christ to the world. In visiting this site, we hope that you may also come to understand how special this seminary is. Saint Charles Borromeo, pray for us!
God bless you!
Sincerely in Christ,

Fr. Keith J. Chylinski
Rector, Saint Charles Borromeo Seminary