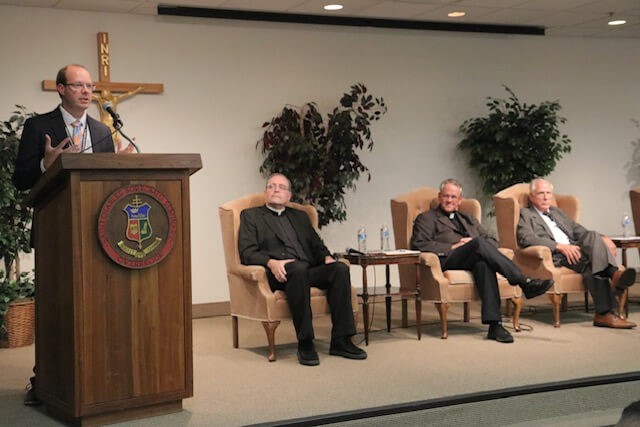 Scroll down to access the online archive of the 2023 Cardinals' Forum.
The next event in this series is scheduled to take place on Tuesday, August 27, 2024 @ 7:00 p.m.
The Cardinals' Forum, named for the academic professorships at the Seminary, is an annual gathering, usually held during the first week of academic classes, to open the year of formation at Saint Charles Borromeo Seminary.  Its purpose is to advance the academic formation of seminary students and provide continuing education for the lay faithful about topics of contemporary concern in the Church.
The topic for the forum is selected each year through consultation among those faculty holding endowed chairs (the Cardinal Krol Chair of Moral Theology, the Cardinal Foley Chair of Homiletics & Social Communications, and the Francesco Chair of Sacred Music) and with the insight of the Archbishop of Philadelphia. 
Typically, these four serve as panelists for the event, each offering a brief (5-minute) presentation on the topic from his perspective and then engaging the audience in a public dialogue about the topic. 
The discussion takes place in the Vianney Auditorium on the Overbrook campus of the Seminary.
The Cardinals' Forum Archives

Below are topics discussed in previous years with links to the remarks delivered by the panelists (where available) and related information.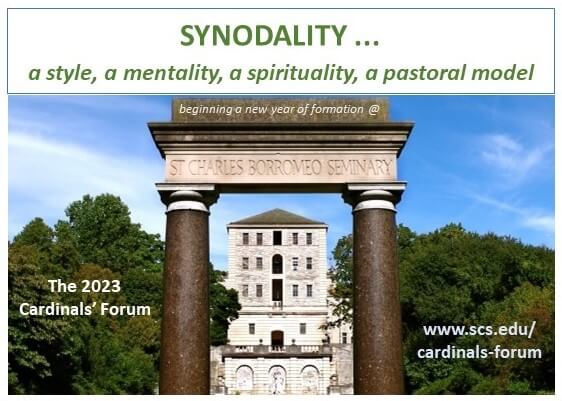 Panelists' Presentations
Background
Media Coverage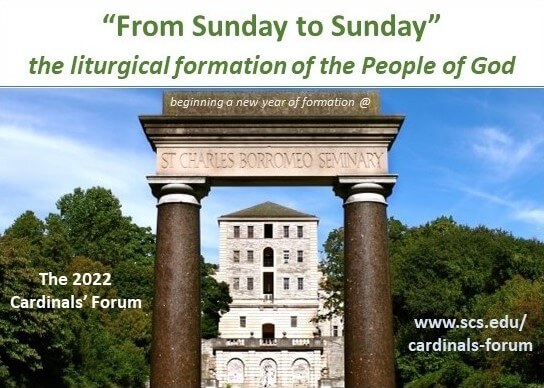 Panelists' Presentations:
Background
Pope Francis, Desiderio desideravi, apostolic letter on "On the Liturgical Formation of the People of God" (29 June 2022)
Media Coverage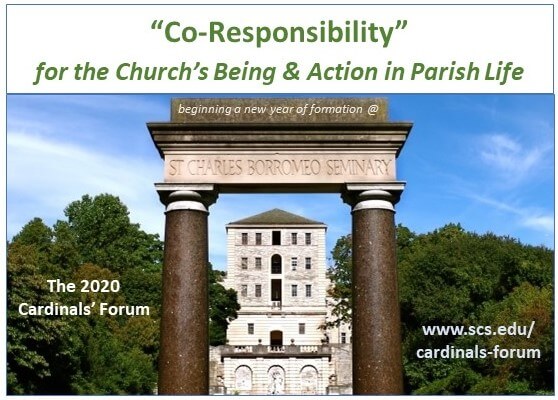 Panelists:
Rev. Robert Pesarchick (moderator) – VP for Academic Affairs 
Dr. John Haas – Cardinal Krol Chair of Moral Theology 
Fr. Thomas Dailey, OSFS – Cardinal Foley Chair of Social Communications
Dr. Nathan Knutson – Lucille Francesco Chair of Sacred Music
Most Rev. Nelson Perez – Archbishop of Philadelphia
Background information
Media Coverage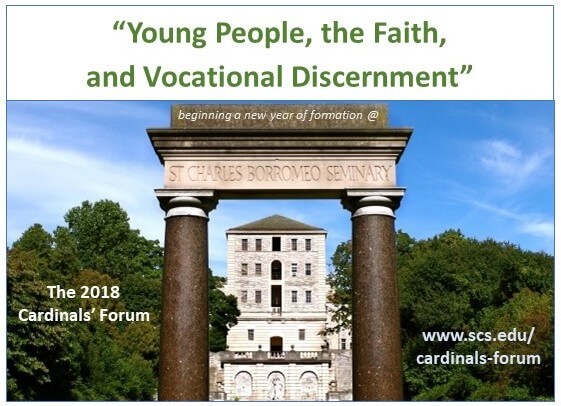 Panelists
Rev. Robert Pesarchick – VP for Academic Affairs
Dr. John Haas – for the Cardinal Krol Chair of Moral Theology
Fr. Thomas Dailey, OSFS – Cardinal Foley Chair of Social Communications
Most Rev. Charles Chaput, O.F.M. Cap. – Archbishop of Philadelphia
Media Coverage