Students are responsible for storing and securing their bicycle in designated areas such as bicycle racks or their residence hall room. Bicycles may not be stored in hallways, bathrooms, stairwells, or in any path of egress. Any bicycle found in these non-designated locations will be removed immediately. There are various bicycle racks located around the residence halls, dining hall, gymnasium, and academic buildings that should be utilized to store bicycles.
At the end of the school year, all students must take their bicycles with them before they leave. Any bicycle left on-campus is subject to removal and will become the property of Saint Charles Borromeo Seminary. If your bicycle is missing or stolen, students should contact the Department of Safety & Security Services to immediately file a report.
The Department of Safety & Security Services provides a bicycle registration service so that members of the campus community can have the make, model, serial number etc. on file to aid in the recovery of stolen property. Members of the Seminary community are encouraged to register their bicycles at no cost. Registration is free and easy and you are encouraged to expedite the registration process by utilizing the online bicycle registration form by following these procedures:
Legibly print out or download the fillable

Bicycle Registration Form

available online then fill in the information that is requested.

Bring the registration form and your bicycle to the Safety Office to complete the remainder of the registration information with the assistance of an officer or staff member. You must bring your bicycle with you.

In order for the bicycle registration system to be effective, having the correct serial number is particularly important. Some manufacturers use both a name and a number for a model designation, and both a serial number and a model number may be stamped on the bicycle. Be certain that the number that is recorded on this form as the serial number is indeed the serial number.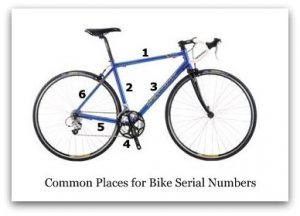 Printed registration forms are available at the Safety & Security Office. You can come to the Safety Office with your bicycle and complete a printed registration form with the assistance of an officer or staff member once you get there.

If you have questions, call the Safety Office at 610-785-6238

Your bike registration cannot be complete and processed without a serial number or other unique identifier. If your bike is stolen and you can't identify it, you will have little chance of recovering it even if the thief is caught.
Lock your bicycle, even if it is just for a few minutes.

Lock your bicycle inside a building or a well-lighted area.

Secure your bicycle, frame, and wheels, to something solid. Do not merely lock your bicycle to itself.

Register your bicycle as soon as possible. By registering your bicycle with Campus Safety, your bicycle's serial number and description are recorded and kept on file. If the bicycle is stolen and recovered, it can be returned to you.

Report suspicious persons and vehicles to Campus Safety immediately at 610-785-6238.
Download the Bicycle Registration Form
Learn more about biking laws and scenic cycling routes from PennDot.